Fired Up
Book 1 in the Brotherhood of District 23 Series. Jo Meadows did what she always dreamed, following her father's footsteps and becoming a career firefighter. Still reeling from his sudden death, Jo attempts to settle roots where he had been the Chief. However, the new cocky Fire Chief, makes it difficult to stay focused on her goal, just like he has since they were kids.

Brian Cavanaugh is doing what he does best, taking command. After the Chief, his only father figure, passes away, he convinces Jo to come back to the department where her family is. While he's always had his pick of the ladies, he quickly realizes what he's been missing out on with Jo and what he's been giving up for his career.

Torn between their responsibilities and their attraction for each other, their history ignites a spark that neither can deny. But Brian's reputation for being a ladies' man and now becoming her new boss challenges their scorching chemistry. Will he be able to prove to her he's changed before Jo's past comes back to haunt them both?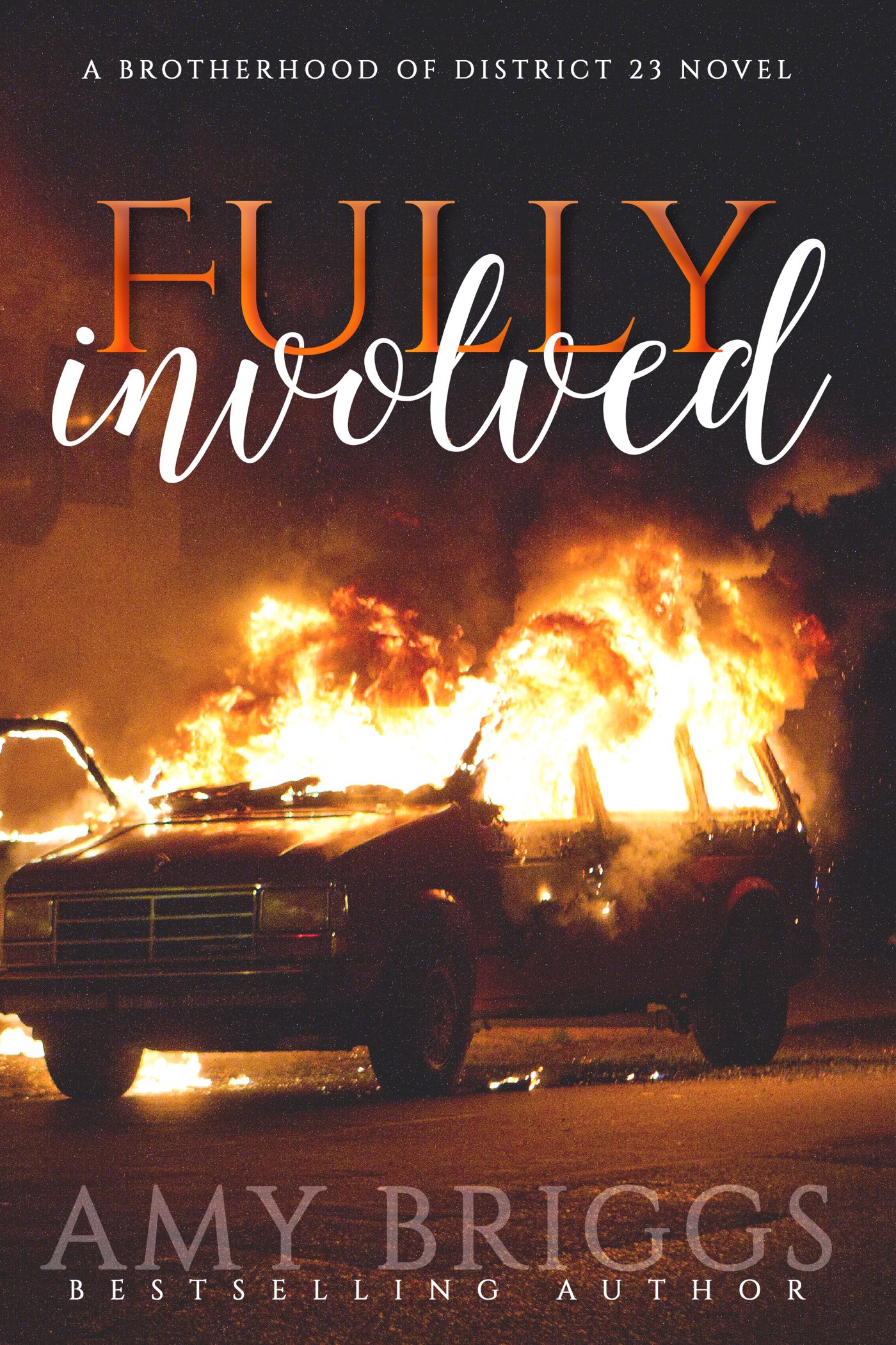 Fully Involved
Book 2 in the Brotherhood of District 23
Isabel Cruise spends her days investigating crimes as a detective, and her nights hoping for a man who will finally satisfy her sexual cravings. Hiding her deep desires was easy until she let herself go one night with the sexy Matt Cavanaugh, a no strings attached firefighter who brings just the right amount of dominance that she's been looking for. Refusing to give into the idea of a real connection, an arsonist on the loose creates a divide that threatens to destroy them before they ever get started. With all clues leading to a perpetrator at Matt's station, Isabel is forced to investigate Matt and the other firefighters at District 23. Will Matt and Isabel have a chance to make a real connection beyond their steamy encounters, or will she have to prosecute one of the firefighters, ruining any chance for something more?
Controlled Burn
Seth Jackson, known as Jax to his friends and family, has always been the easy-going, loyal, and dependable friend to everyone. Marine Corps veteran and career firefighter, Jax enjoys a simple life, hanging out with friends, and chasing the ladies. Always the most level-headed of his friends, he suddenly finds himself spinning out of control, unable to sleep and suffering from nightmares and anxiety. When he finds out he suffers from PTSD, he second-guesses everything around him and starts searching for the normalcy he thought he was living.

Vivian Deveraux, a twenty-five-year old with a penchant for selling real estate deals like a seasoned agent, thought she was just negotiating another deal. While brokering a sale for his friends, Vivian meets Jax, who instantly stirs up emotions she had kept buried for years.

Jax pursues Vivian in an effort to fill a hole he didn't realize he'd had, but will their connection actually create more darkness?

**Controlled Burn is the 3rd book in the Brotherhood of District 23 series, but CAN be read as a standalone**
Dream State
Jacob McIntyre sleeps the days away, while working nights as a Physician's Assistant at the local hospital. Since his divorce, he's been without emotion or purpose other than his work, until the night she's brought in. With no identification, and no apparent medical reasons for her unconsciousness, he can't deny the pull to her, even once she's no longer under his care.Nicknamed Snow White by the hospital staff, she longs to be awakened but no one can hear her. As he fights to find a cure, will his devotion to a woman he doesn't even know awaken his own heart? Find out if true love's kiss really can stop the sleeping curse in Dream State.
Saving Sarah
Flight attendant Sarah Kennedy, is still recovering from her kidnapping, simply going through the motions. Between the sleepless nights, and indifference to just about everything around her, she's developed a deep-seated inability to find happiness. Hoping that a visit with Rayne, her friend with whom she was held captive in Egypt, will help her move forward, she spends a week with her to get away from the self-imposed solitude that's been keeping her down.What she didn't expect was to meet someone who would ignite the sparks she'd always been missing.Colin Walsh, counter-terrorism specialist in the Army, has been stationed at Ft. Hood for over five years, and intends to make a career of it. Recently returning from a deployment to the Middle East, he's bored and anxious to get back in the field, until he meets Sarah Kennedy, the flight attendant with the sad eyes, who's just in town for a visit.Can the uncompromising soldier, committed to his service, find happiness with the tormented flight attendant? Find out what happens when Sarah and Colin's worlds collide in Saving Sarah.
Kissing Kalliope
What's a girl to do when her one-night stand turns out to be her partner? Kalliope Tyson, an intelligence officer working for Delta Force, has always worked in a support role. Looking to expand her horizons, she takes a trip to Langley to work with the CIA on an intelligence sharing and training operation. When she meets a handsome stranger, she resolves to have a little fun with him while she's away from home. Ethan Stowe, a CIA operative working out of headquarters, has become bored with the same old routine. While he's waiting for his next Intelligence liaison from Delta Force to arrive, he engages with a beautiful woman that he meets while out having a drink, not something he'd normally do. Kallie is unique though; she's smart, beautiful, and mysterious. When an active shooter situation arises, and the two are forced to work together, agency affiliation no longer matters. Kallie and Ethan need each other's individual skills to save the people around them, and themselves. With their lives hanging in the balance, will Kallie decide the CIA, and a chance at love, is for her? Once Ethan realizes what he wants, will it be too late to keep Kallie close? Find out when agencies collide, and bullets fly, in Kissing Kalliope.
Saving Davidson
Just another typical case. Or so she thinks. FBI Agent Portia Jennings is assigned to follow up on DEA Agent Davidson Kelso, who has been undercover too long on what seems to be a stale case. Used to working within the Department of Justice and assisting other agencies, this is just a "run of the mill" job for a seasoned agent like her. After one misstep plants her right in the middle of his investigation, and directly into the arms of the hottest man she's ever seen, Portia is faced with a difficult decision. Does she ruin the case Davidson has worked to build, or does she join him undercover, ultimately putting a band of drug smugglers away for good.And he needs her help. When all they have to rely on is each other, can they resist their temptations and get the bad guys?
roman
Everything about him tells her to stay away, yet she can't seem to get the vampire out of her mind.

For Roman, humans are the bane of his existence always having to follow their rules. In all his years, he's never needed one, until now.

For Fiona, vampires are off limits, evil members of society, until the one known as Roman crosses her path and shows her he's no different than her
Hot and Cold
Dani Moore has been burned. Still recovering emotionally from a recent assault, Dani spends her days blogging and riding around with her brother, a homicide detective. She's going through the motions with no real hope of ever getting back to "normal life." But when she meets Scott Walker, the city's new arson investigator, the heat between them is undeniable. Scott's the nicest guy she's ever met. And it doesn't hurt that he's so attractive she can barely breathe. Finally out of school and working his first big arson and murder investigation, Scott hasn't had time to get involved with anyone. But when he meets Dani he's convinced that gorgeous girl who lights a fire in his heart will be his. He's unable to resist her, even though she runs hot and cold. He refuses to give up on her, even though his new partner is Dani's brother. Dani may be able to put the past behind her and allow Scott to teach her how to trust again, but will the case go cold while their love ignites?
Royal Protection
Miranda Royal, lead singer and songwriter of the band Little Queens, is about to headline her first tour with her sister Carmen, the drummer, and their bandmates. While being on the road is no new thing for them, the threatening letters Miranda has been receiving are coming more regularly and reach her in almost every city they perform. Focusing solely on the tour, Miranda tries to avoid everything but the performances and publicity the band needs to keep their dream alive. Until Ryan King joins the tour. Ryan King, Army Ranger turned personal security to the elite, has been hired by the Little Queens' manager and father to protect Miranda while they're out on tour. An unorthodox request combined with her adamant refusal to have personal security means Ryan has to go undercover as a writer for a popular rock magazine against his better judgement. As he tries to find the stalker and grows closer to Miranda, he fights his overwhelming attraction to her, afraid it will impact her safety. Will one wrong move cause everything the Little Queens have worked for to come crashing down?
Love & Donuts
Alex Ward, an award-winning chef, and owner of several restaurants has a special gift for his daughter. Over the summer break, instead of working in one of his restaurants, they're going to turn a snooty French bakery into a donut shop together. An adventure with his daughter takes an unexpected turn when they meet the feisty pastry chef, Gabby. Beautiful and stubborn, with just enough sweetness, Alex can't get enough of Gabby, and sets in motion a plan to keep her and the donut shop. Gabby Foster's plan was coming together. She finally graduated from culinary school as a pastry chef, she'd put in her time with her mentor at a beautiful French bakery, and secured a full time position there. When Alex Ward, the confident and charming restaurateur buys the bakery she works for, she's left with a difficult decision. Stay and help open the donut shop, completely dismantling the bakery she loves, or leave the whole dream behind.
Love in the Midwest
Love in the Midwest Two stories of love and redemption. They never expected to come into each other's lives, but then fate stepped in. Jacinda Brennan wants nothing more than to flip the house she inherited and get back to her life in the city. Flynn Healy, the confirmed bachelor of his small town, is more than happy to fix houses by day, while working on his own at night. A jaded city girl and a rugged contractor…what could go wrong? Sparks will fly when opposites attract in Tough as Nails. Everett Johnston is a hometown boy; a hard worker with a good heart. Fallon Fitzgerald, always finding herself in trouble, just wants to get through the summer. When the two meet, the attraction is instant and palpable, but their vast differences cause them to push each other away. When the good boy falls for the bad girl, Fallon has to decide if she's willing to finally let someone in before it's too late in Pink Sunsets. *This book was previously published as two novellas.
Christmas With You
Bestselling authors Heidi McLaughlin, L.P. Dover, Cindi Madsen, R.J. Prescott, and Amy Briggs invite you to celebrate the holidays in small-town Friendship, Massachusetts, where a mysterious newcomer decides to play matchmaker for five lucky couples.
Snowflake Lane Inn by L.P. Dover
The owner of a picturesque inn gets a holiday surprise when a well-known fashion designer comes to stay and re-designs his future.
Runaway Christmas Bride by Cindi Madsen
Making a new life in Friendship certainly wasn't the plan, but the spirit of Christmas - along with the rugged local sheriff - leads to a change of heart for this runaway bride.
Christmas Lights by Amy Briggs
A visitor to Friendship learns the true meaning of Christmas from a single dad and his young daughter.
Christmas Encounter by R.J. Prescott
A famous Formula One driver finds all roads lead to Friendship - and love - this Christmas.
It's a Wonderful Holiday by Heidi McLaughlin
A workaholic finds just the right Christmas magic to remind him about the most important thing in life: spending time with his wife and family.
Sugar and Spice Journals
This beautiful journal contains everything you need to stir creativity. With lined, blank and dot grid pages for notes, coloring pages, and journal prompts, the artist within is sure to emerge. About the creators Amy Briggs and Kristen Mazzola Amy and Kristen are both novelists who share a love of all things writing, including journaling. Their passion for writing books ultimately led them to the conclusion that they had to create journals that were not only beautiful but inspirational as well. Each journal prompt was hand-selected and chosen to improve the free flow of thoughts and to encourage the creative side they believe everyone has.